This chart is straightforward: It's outstanding credit as a percentage of GDP. Broadly speaking, this is a measure of how leveraged the US economy is.

It was in a sedate 130%–170% range as the economy industrialized in the late 19th and early 20th centuries. It popped higher in the 1920s and 1930s before settling down again. Then came the 1980s. Credit jumped above 200% of GDP and has never looked back. It climbed steadily until 2009 and now hovers over 350%.
Anyone questioning whether financial markets are in a bubble should consider what we witnessed in 2017:

A painting (which may be fake) sold for $450 million.
Bitcoin (which may be worthless) soared nearly 700% from $952 to ~$8000.
The Bank of Japan and the European Central Bank bought $2 trillion of assets.
Global debt rose above $225 trillion to more than 324% of global GDP.
US corporations sold a record $1.75 trillion in bonds.
European high-yield bonds traded at a yield under 2%.
Argentina, a serial defaulter, sold 100-year bonds in an oversubscribed offer.
Illinois, hopelessly insolvent, sold 3.75% bonds to bondholders fighting for allocations.
Global stock market capitalization skyrocketed by $15 trillion to over $85 trillion and a record 113% of global GDP.
The market cap of the FANGs increased by more than $1 trillion.
S&P 500 volatility dropped to 50-year lows and Treasury volatility to 30-year lows.
Money-losing Tesla Inc. sold 5% bonds with no covenants as it burned $4+ billion in cash and produced very few cars.
In 2018, a lot of chickens are going to come home to roost in Washington, D.C., on Wall Street, and in the media centers of New York City and Los Angeles. Icons will be blasted into dust as the tides of cheap money, cronyism, complicity, and stupidity recede. Beware entities with too much debt, too much secrecy, too much hype. Beware false idols. Every bubble destroys its idols, and so shall this one.
Ample low-cost liquidity drives asset prices higher. That's not controversial. It makes perfect sense that the withdrawal of ample low-cost liquidity would also impact asset prices in the opposite direction.
At the risk of repeating myself, I think it is borderline dysfunctional for the Fed to be raising interest rates and at the same time experimenting with reducing its balance sheet. Where's the fire? Seriously, we waited for four years, deep into the recovery, before the Fed found enough intestinal fortitude to begin to timidly raise rates. And now they think they have to proceed at warp speed? I just don't see this ending well.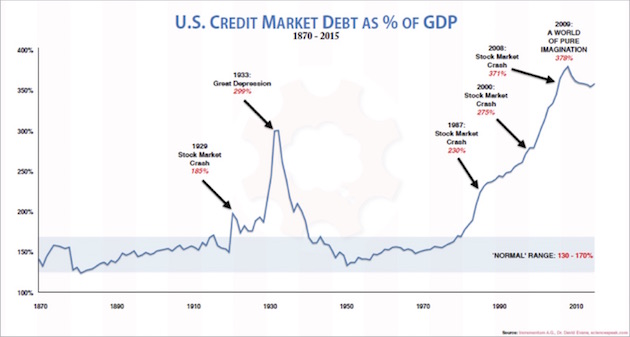 Source:
The Bonfire Burns On